About the Project
Every ripple of hope can create the waves of change that lead to recovery.
Great Lakes Recovery Centers (GLRC) is undergoing a major project designed to provide additional treatment capacity in the Eastern Upper Peninsula. GLRC will be relocating the Men's New Hope House residential treatment program to a former church building on West Easterday Avenue in Sault Ste. Marie. The new location will expand capacity and offer improved accommodations for up to 16 men. We have also planned for a barrier-free room and a social detox room. There will be plenty of congregate space for meetings, socialization, and meals, with ample parking for friends and family.
The need for expansion is greater than ever. In Fiscal Year 2020 over 167 men received treatment at the Men's New Hope House, a nearly 25% increase over the year before. We have run out of space at the current Men's New Hope House and this relocation project will allow for program expansion. The Men's New Hope House is a residential substance abuse treatment program for males over the age of 18. Residential treatment allows individuals to live in a therapeutic environment, alongside other residents, with comprehensive programming, and access to on-site clinicians.
Construction began at the Easterday facility early this spring!
Recovery Housing
We have already converted the attached former rectory at the Easterday property into a new men's recovery house for up to five men. In July 2020, we opened the doors to "Gary's House" – named after a beloved former employee. Recovery housing provides structure, support, and a safe environment for those new to recovery and allows the individual to continue to heal and use the strategies they learned while in treatment.
Once the Men's New Hope House has been relocated, we will turn our attention to creating recovery housing for women in Sault Ste. Marie. To learn more about recovery housing click here.
Ways to Give
Contributions to the campaign can be made in the form of a one-time gift of cash, or a gift of appreciated assets such as stocks or securities.
Pledges
For your convenience, pledges will also be accepted for up to a three-year period. An accelerated payment plan or a large initial installment will help us minimize financing costs.
Commemorative Opportunities
We invite you to honor friends, family, the memory of a loved one, or a business through a commemorative gift. We will work with you to determine the appropriate vehicle for permanent recognition of substantial gifts.
Beach Glass Tradition
Every client that graduates from the Men's and Women's New Hope Houses receives a piece of beach glass when they graduate the program. This tradition began with a former counselor at Great Lakes Recovery Centers.
One day when she was walking along the beach she came across a piece of beach glass. As she picked up the glass, she reflected on how it signifies the journey of our clients. The discarded glass, all sharp and jagged when it first enters the water, goes through a process of change that eventually washes away the hard edges. The glass can no longer hurt those that touch it and the beauty that was always there can be seen.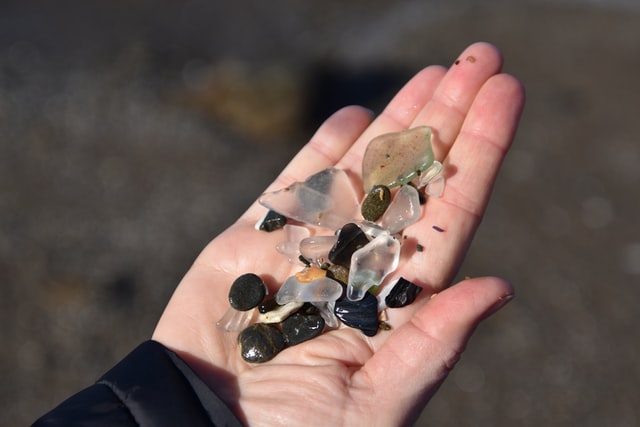 Contact
Karen Sprague, GLRC Foundation Assistant & Rebuilding HOPE Project Contact
ksprague@glrc.org // (906) 632-9809 x 2308
2655 Ashmun Street
Sault Ste. Marie, MI 49783
GLRC Administrative Office
97 S. Fourth Street, Suite C Ishpeming, MI 49849
Media Coverage