Medication Assisted Treatment
What is MAT?
Medication assisted treatment (MAT), combined with counseling, has been shown to be effective in the treatment of opioid disorders. GLRC's Medication Assisted Treatment clinic provides medication that can help control cravings and the chemical impacts of substances.
Buprenorphine-based medications are now considered best-practice for treating individuals with opioid dependence. GLRC believes that when combined with comprehensive evidence based therapies, a continuum of supportive auxiliary services and stringent operational controls, medication assisted treatment can be an effective pathway to abstinence, reducing the negative impact of opioid abuse for individuals and the community at large.
The target population for this treatment program includes those adult clients dealing with moderate to severe Opioid and/or Alcohol Use Disorder. Clients will be thoroughly screened to assess risk and appropriateness for compliance with all program rules and guidelines. Only those patients who can fully comply with the established program components will be accepted for treatment. This clinic does not specialize in the treatment of pregnant women. Pregnant individuals will be referred.
How it Works
The prescribed medication operates to: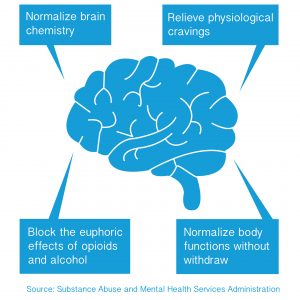 Screening
GLRC clinicians are able to refer an open, active client for MAT services by completing a MAT referral form. The clinician making the referral sends the form to the access center to start the official screening process.
Alternatively a future MAT client can call the access center to get a referral to one of our many outpatient clinics. From there the client will meet with a clinician, begin treatment, and from there is potentially eligible to be referred to the MAT clinic.
Intake
The intake is completed by the MAT nurse/case manager before the client is able to meet with the physician. The nurse/case manager provides a MAT program orientation, reviews the MAT treatment agreement before having the client sign. The nurse/ case manager provides an information sheet on what to expect when receiving MAT services to the client. The nurse/case manager then completes the GLRC MAT medical history and PE form with the client in a structured interview.
The nurse/case manager answers any questions about the process that the client may have. A drug of abuse urine screening (10 panel) is completed to be utilized as a baseline. The client then sees the physician who reviews the intake documentation, medical history form and drug screening results before prescribing medications as indicated. The physician gives the client the GLRC MAT protocol for follow up appointments form and determines the client's next appointment frequency.
Locations
Iron Mountain Outpatient Services
Negaunee Integrated Care Clinic
Marquette Outpatient Services
Sault Ste. Marie Outpatient Services
To schedule an appointment at any of our locations please contact the Access Center at 906-228-9696.
Forms of Payment
-Medicaid
-Blue Cross Blue Shield
-Self-Pay