Offender Success, Region 1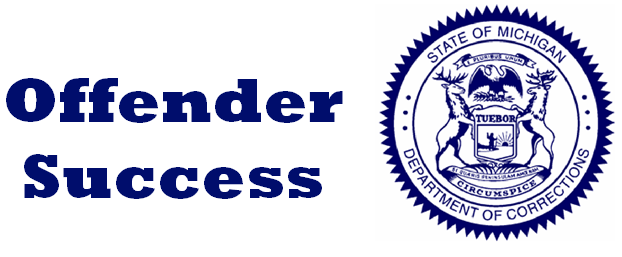 Offender Success Mission
The MISSION of the Michigan Offender Success Model is to reduce crime by implementing a seamless plan of services, supervision and opportunities developed with each offender and delivered through State and Regional collaboration with the ultimate goal of obtaining sustainable employment and self-sufficiency.
Offender Success Vision
The VISION of the Michigan Offender Success Model is that every offender released from prison will have the tools needed to succeed in the community and the opportunity to utilize those tools to be productive, self-sufficient citizens.
The Michigan Offender Success Model
The model incorporates:
— The three phase reentry approach of the Department of Justice's Serious and Violent Offender Reentry Initiative (SVORI).
— The seven decision points of the National Institute of Corrections Transition from Prison to Community Initiative (TPCI Model).
— The policy statements and recommendations from the Report of the Reentry Policy Council that is coordinated by the Council of State Governments.
How is this accomplished?
The mission is accomplished by targeting service provision to meet the identified needs of returning offenders, thereby reducing their risk of recidivism and enhancing their employment opportunities.
Offender Success employs Specialists to assure all counties have adequate services and vendors to meet the needs of all returning parolees. They also develop employer relationships to provide employment opportunities to returning citizens, and coordinate job placement activities for program participants.
Regional Steering Team
Provides planning oversight whereby the community and the MDOC come together to collaborate locally on developing solutions and leveraged services for programs, services and job development efforts.
Advisory Council
• Advisory Councils are in place within each region to create a strong base for community support and to act as a vehicle for public education and input for the Offender Success Program.
• The Advisory Council represents an opportunity for service provider input to the process, especially through a specifically named committee of the Council.
• Advisory Council members attend Advisory Council meetings and participate in reaching out to the public at-large to educate them about Offender Success in their community.
If you would like to get involved please contact osinfo@greatlakesrecovery.org.
Types of Services:
Offender Success provides case management services to help meet program participants' basic needs and to assist with community reentry.
Residential Stability
• Rental Assistance
• Housing Choice Voucher Program
• Household Goods
Job Placement
• Vocational Assessment
• Vocational Training Opportunities
• Job Search Assistance
• Job Placement & Follow-Up Services
• Work Supplies
Social Support
• Transportation Assistance
• Clothing, Food & Hygiene Assistance
• Identification & other essential documents
Health / Behavioral Health
• Mental Health Assessment and Counseling
• Batterer Intervention Services
• Psychiatric Evaluation
• Medication Review & Stop-gap Prescriptions
Services are provided based on the parole agent's referral.
Region 1 Staff
Natalie Patron
Program Manager
(906) 630-2511
Jason Sides
Community Coordinator
(906) 458-0616
Bob Boivin
Offender Success Specialist
Iron Mountain

BillieJean Horrocks
Offender Success Specialist
Marquette
Jodi Mallett
Offender Success Specialist
Marquette
Ashley Marjomaki
Offender Success Specialist
Marquette